Hey, I'm in between shots right now so I'm in the process of cleaning up the characters. The clay tends to get messy and dirty and ugly after it's been manhandled over and over, frame by frame. So sometimes when I'm going to change camera angles, I take the chance to remove the characters from the set to repair them. This usually consists of tearing them apart and rebuilding them, and also smoothing out the clay. Sometimes the clay gets spots on it from other colored clay or bits of styrofoam. Sometimes there are just nicks in it from my fingers or tools. Here you'll see Daddy Frog with his legs removed. They were getting a bit torn apart so wanted to make them sturdy again, you can also see the toothpicks I use for support. While not the best armatures in the world, toothpicks are great for characters who don't do too much movement (It saves you a lot of time not having to build an unnecessary armature).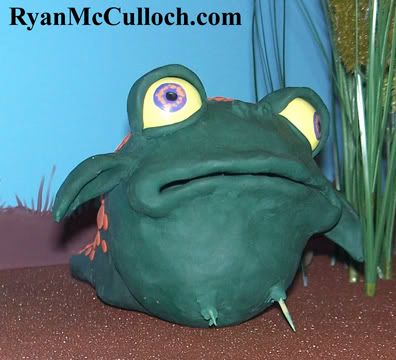 Here is Baby Frog without his eyes, I really needed to clean up his face, and smooth out his clay.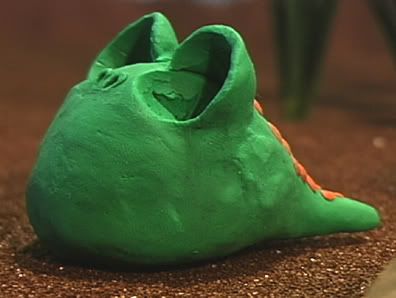 Lastly, here's Baby Frog's replacement mouths, made from baked clay. So Exciting!