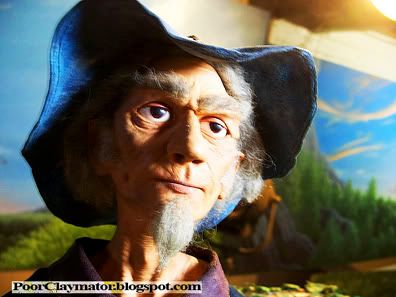 I've been out in New York for the past couple of days, clearing my head and doing some early development and pre-viz for my next Tertiary Animation project. It's been a great and much needed change of scene for my creative mind.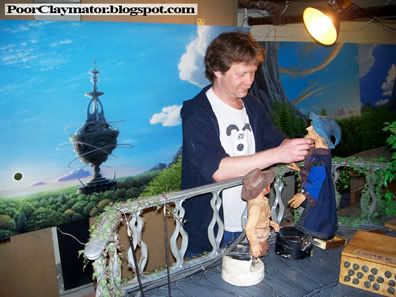 One of the highlights of my trip so far was getting to visit the
Mysterious Ron Cole
in his Long Island studio. In the last year or so, Ron Cole has risen out of obscurity to some sort of underground stop-motion animation god. All based on a 1 minute trailer for his upcoming short film "In The Fall Of Gravity" that he posted on the internet. The 12 minute short is a revolutionary experiment involving animatronic stop-motion. This new technology that Ron is developing could very well change the way stop-motion animation is done in the future, as well as improve the quality beyond cartoons.
When I got to his basement studio, I was EXTREMELY excited, as I have been a fan of his trailer since it first surfaced on the web almost a year ago. Nothing could prepare me for what I was going to see. We journeyed through the various set areas and he introduced me to Isomer and Trevor, the stars of the film. What blew me away was how giant these puppets were, I couldn't believe it. Moving them around was a dream, they had wonderful ball and socket armatures, and then Ron started to play with their robotics, moving the mouths and eyebrows around, seeing them come to life was truly magical. The type of facial features and movements they make are like nothing I have ever seen in this industry.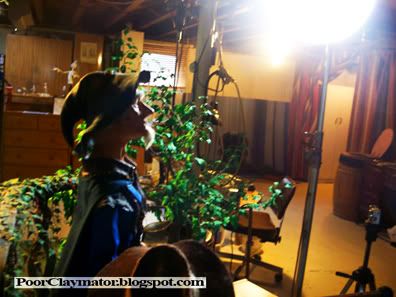 The sets were beautiful, hand panted, leaves and vines crawling up the rails. I just wanted to touch it all. What surprised me was that all the backgrounds were hand painted and right there, no blue screen. The painstaking detail apparent in each one was mind-boggling.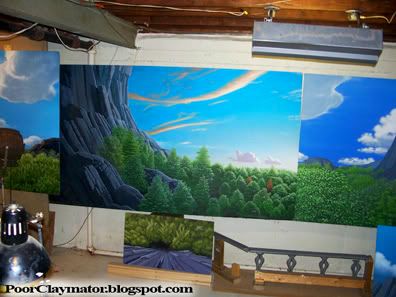 The real treat, though, was getting to be the first person (other than the composer) to watch the finished "In The Fall Of Gravity" film. And let me tell you, all you stop-mo fans that have been salivating over his trailer for the last year; it is well worth the wait. The final film is stunningly beautiful, and I watched the entire time with my jaw on the floor. The trailer doesn't show anything compared to what the film has in store for you. The animation is top notch; the visuals are beautiful and fun. I'm pretty sure the deep, philosophical story was compelling too, but I was so captivated by what I was watching, not much else got through. It is a sensory overload and demands multiple viewings to truly take it all in and get the full affect.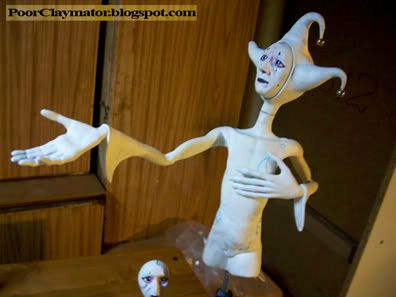 We spent the rest of the afternoon talking about animation and technology, I showed him my
Fox & Calf
shorts, and I got to know his really cool family. He shared with me how he did all the low-tech effects in the film and my head almost exploded. It's funny that even I assume everybody does everything digitally. And his tricks were brilliant. So brilliant, in fact, that I feel as if giving them away on this blog would be the same as me telling you how his film ends. Hopefully he will do a "making-of" featurette on his DVD and give us all a glimpse at how his brilliant mind works, and still defies the computers.
I had an amazing experience with Ron and his family, and his puppets, and left feeling very inspired. How often does that happen? I cannot wait until everyone else can see what he's done and feel the same!