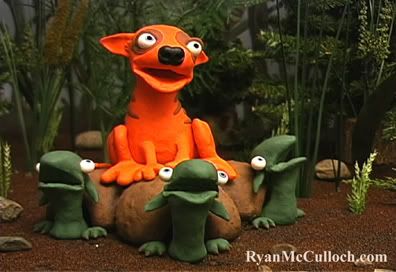 Hello, hello, hello!!! Well it has been a VERY productive three days since I last posted and I am feeling very positive about the progress I've made. Sometimes when you go so long in preproduction (over a month for this film) and you haven't gotten a chance to animate anything, you start to feel like you're going nowhere. But once you start to push the clay, it makes all the work worth while. I've had the chance to animate three separate shots since Wednesday, all of which were very challenging. But when you pull off a challenging shot and it looks good, there is no better feeling. First off on Wednesday, I shot these characters above. I REALLY enjoyed animating the orange fella, he was very cooperative and the final product was very rewarding. The turtles were a blast to animate too, I used the replacement heads for them to pop out of their shells, and their mouth movement is kind of comical.
On Thursday I animated these two birds. My dad came by the studio and built me a great rig out of some old television antenna to help the bird fly. It was great having him help animate. It reminded me of the old days when we would animate in the garage together. He also built a fantastic set out of some crazy branches he found with all this moss stuff on it and he suspended them from wires on the ceiling. It's super cool. Below you can see the rabbit-ear rig for the bird. On Sunday I get to digitally remove the rod from the bird's butt in about a hundred frames. FUN!
And finally below are the pictures of yesterday's shoot. It's a small weasel character who moves around really fast. I made a replacement body for him that stretches when he moves. This was the most difficult of the three shots, but it's pretty cool.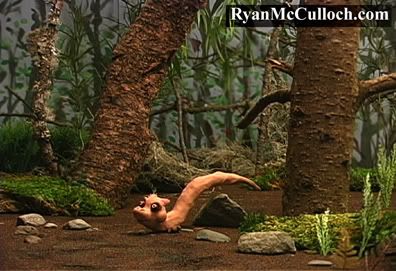 It's good to be moving the characters again.